Can't find what you are looking for?
Put in a product request or contact our team and we'll be more than happy to help.
Request A Product

Pylontech US5000C 4.8kWh Li-Ion Solar Battery 48V (excl. brackets)
Batteries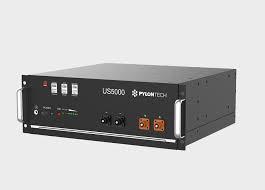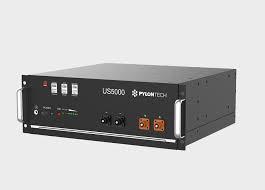 Pylontech US5000C 4.8kWh Li-Ion Solar Battery 48V (excl. brackets) Description
A new battery in the US series from Pylontech. The US5000 is a 48V battery that is extremely competitive in the ESS market especially with its compatibility with most hybrid inverters. We love it especially because of it's fantastic compatibility with Victron Energy products. The fact it is used so widely with Victron Energy, in off-grid markets especially, gives us full confidence in this products value to the market.
Product Features
Modular design for ease of expansion
Higher usable capacity resulting in less battery modules installed
Usable capacity 4 560Wh
Parallel Capability of up to 16 units
Allows for large installation of up to 72.96kWh with no LV Hub
Intelligent BMS protecting battery cells
95% DoD with more usable capacity
RS485 and CAN compatible
Comes with a 5-year warranty extendable
Long cycle life and superior performance
Compatible with tier 1 inverter brands
To extend the warranty you have to register here: http://en.pylontech.com.cn/service/support
Supplier Part No: US5000
Weight: 38 kg
Battery Type: Lithium Ion
Nominal Energy: 4800 Wh
Depth of discharge: 95.00 %
Voltage: 48 V
Continuous Discharge Rate (Normal Use): 2400 W
Maximum Discharge Rate (5 Minutes): 4800 W
Surge Discharge Rate (15 Seconds): 5808 W
Maximum Charge Rate (5 Minutes): 4800 W
* In accordance with Pylontech's warranty conditions. The warranty is only valid if the batteries have been installed by an electrician or authorised installer.