Can't find what you are looking for?
Put in a product request or contact our team and we'll be more than happy to help.
Request A Product

EcoFlow DELTA Max Portable Power Station 2000
Portable Power Stations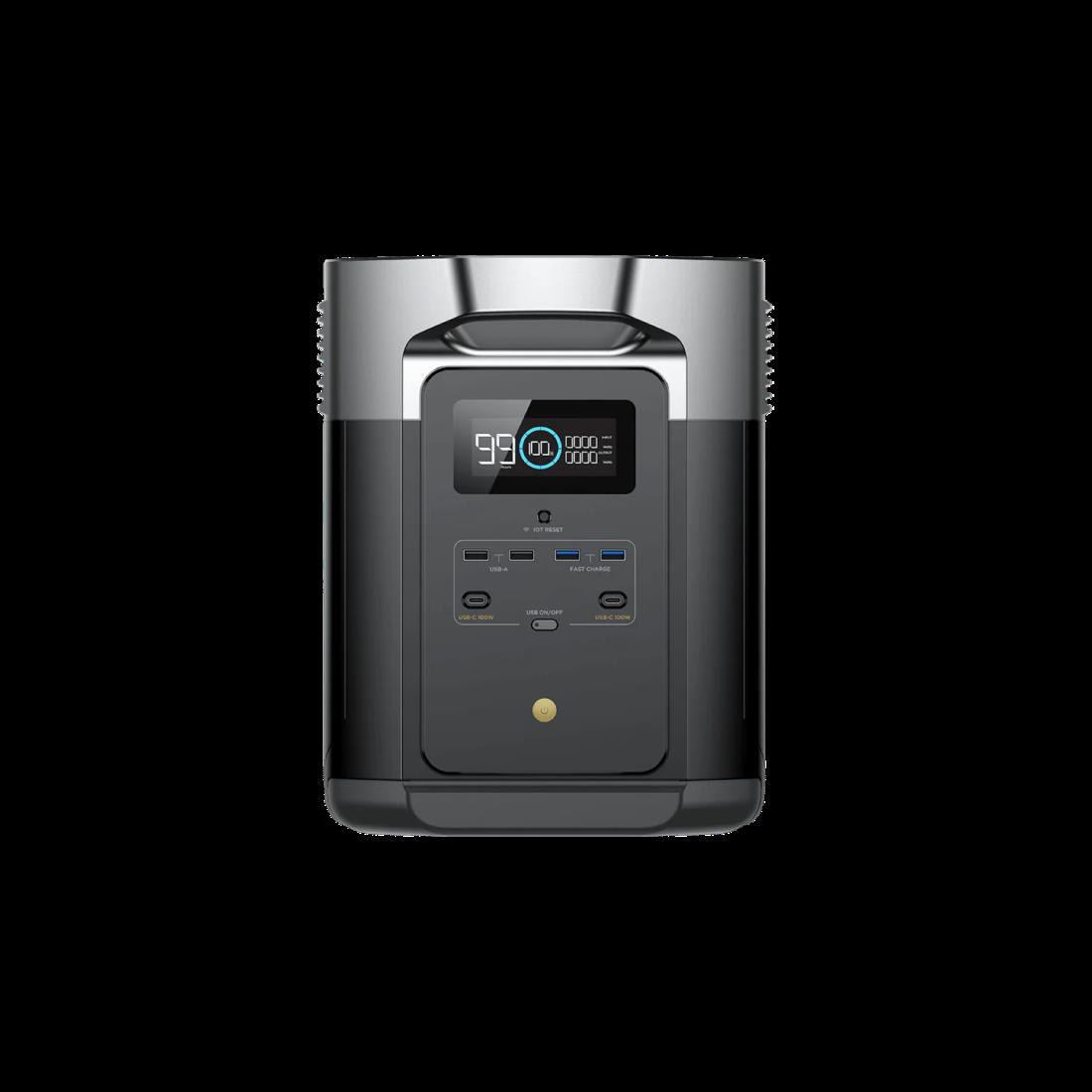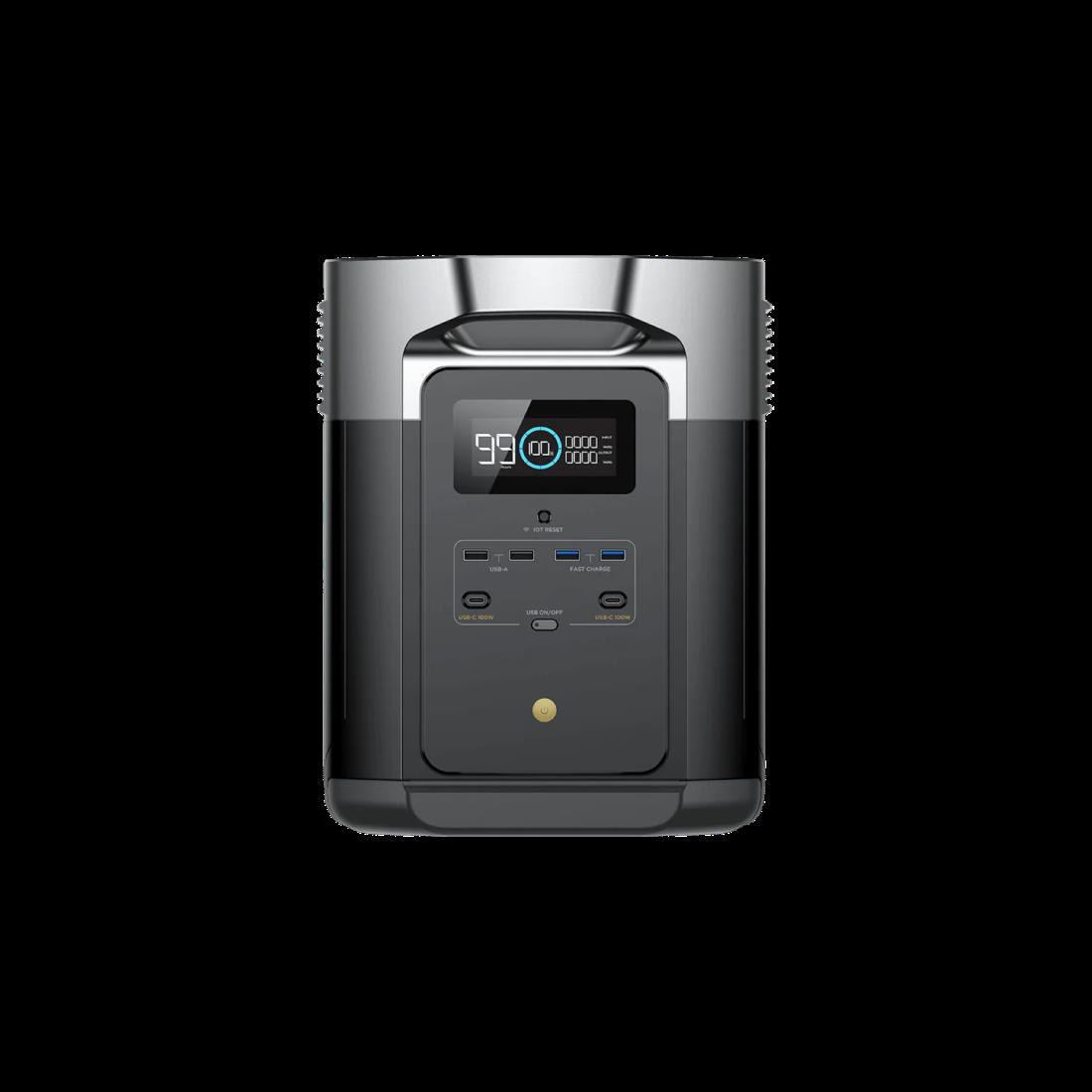 EcoFlow DELTA Max Portable Power Station 2000 Description
This has been superseded by the EcoFlow Delta 2 Max.
2-6kWh expandable capacity for home backup
Power heavy-duty devices with 2400W output
Charge 0-80% in just 65 minutes
Solar charge in as fast as 2.5 hours
Up to 3400W fast dual charging
Smart App control
The EcoFlow DELTA Max Portable Power Station 2000 is a cutting-edge power solution designed for off-grid living, outdoor adventures, and emergency backup power. With a massive 2400W output and a pure sine wave AC inverter, this portable power station can power up to 15 devices simultaneously, including power-hungry appliances such as air conditioners, power tools, and electric vehicles.
The EcoFlow DELTA Max is equipped with a variety of ports and outlets, including six AC outlets, two USB-A ports, two USB-C ports, a 12V carport, and a DC5521 port. This allows you to charge and power your devices with ease, no matter the type of plug.
This portable power station is built with a durable and rugged material, making it ideal for use in harsh outdoor environments. It also has an advanced battery management system that ensures maximum battery life and safety, with features such as short circuit protection, overcurrent protection, and temperature control.
The EcoFlow DELTA Max goes from 0 to 80% charged in just 65 minutes!
The EcoFlow DELTA Max also features an innovative Power Management System that allows you to prioritize power allocation to essential devices during a power outage. This ensures that you can keep your most important devices, such as medical equipment, running even when power is scarce.
Whether you're camping, on a road trip, or experiencing a power outage, the EcoFlow DELTA Max Portable Power Station 2000 is a reliable and eco-friendly solution to keep your devices powered up and running. With its high-quality construction, advanced features, and impressive performance, this power station is the perfect choice for anyone looking for a reliable and powerful portable power source.
Specs of DELTA Max (2000):
Net Weight:
Approx. 48 lbs (22 kg).
Dimension:
19.6 x 9.5 x 12 in (49.7 x 24.2 x 30.5 cm).
Charge Temperature:
32 to 113°F (0 to 45°C).
Discharge Temperature:
-4 to 113°F (-20 to 45°C).
Warranty:
24 months.
Charge Method:
AC Wall Outlet, 12V Car Adaptor, Solar Panel, Smart Generator, Smart Extra Battery.
Full Recharge Time:
1.6 Hours (AC) 21 Hours (12V Car Charger) 5.6-11.2 Hours (Using 4x 110W Solar Panels) 4.2-8.4 Hours (Using 4x 160W Solar Panels) 3.2-6.3 Hours (Using 2x 400W Solar Panels).
Capacity:
2016Wh.
Cell Chemistry:
NCM.
Cycle life:
800 cycles to 80%+ capacity.
Management Systems:
BMS, Over Voltage Protection, Overload Protection, Over Temperature Protection, Short Circuit Protection, Low Temperature Protection, Low Voltage Protection, Overcurrent Protection.
Testing and Certification:
CE WEEE CTP RCM KC.
AC Charge Input (Power):
X-Stream charge (2000W max).
AC Charge Input (Voltage and Amperage):
220-240V~50Hz/60Hz, 10A.
Solar Charge Input:
11-100V 13A Max, 800W max.
Car Charge Input:
Supports 12V/24V Battery, Default 8A.
AC Output (x4):
Pure Sine Wave, 2400W total (surge 4600W), 230V~ (50Hz/60Hz).
Max Device(s) Power Supported by X-Boost:
3000W.
USB-A Output (x2):
5V 2.4A, 12W max, per port.
USB-A Fast Charge (x2):
5V/2.4A, 9V/2A, 12V/1.5A, 18W Max.
USB-C Output (x2):
5/9/12/15/20V 5A, 100W max.
Car Charger Output (x1):
12.6V/10A, 126W max.
DC5521 Output (x2):
12.6V/3A, per port.
Smart Extra Battery:
Supports up to 2 DELTA Max Smart Extra Batteries (sold separately).
Smart Generator:
Supported (sold separately).
Wi-Fi:
Supported.